Gombe
Kwami Local Government Council of Gombe State says it will plant one million different varieties of drought-resistant trees in each of the 10 wards of the local government.
Alhaji Ya'u Marafa, Chairman of council disclosed this in an interview  in Kwami last Monday.
Marafa who spoke through his Personal Assistant, Alhaji Adamu Usman, said the decision to plant the trees was to guard against environmental challenges such as windstorms.
"As a permanent measure, the local government intends to plant one million seedlings – different varieties of drought-resistant trees, at least not less than 100 seedlings in each of the 10 wards of the local government.''
A heavy windstorm destroyed houses, mosques and many public infrastructures in Mallam Sidi village, the headquarters of local government area a fortnight ago.
At least 200 houses were reportedly destroyed by the windstorm which also damaged shops and blew off the roof of the NYSC orientation camp.
He said the trees, which would be planted in three phases – in May, June and July – would serve as wind breakers.
Jigawa
Jigawa  State Ministry of Education has banned the use of mobile phones by students in secondary schools across the state.
Prof. Haruna Wakili, the state Commissioner for Education, announced this on Monday at a meeting with Principals and Zonal Directors of Education at the Government Unity Secondary School, Ringim.
The commissioner also announced a ban on the use of vernacular during school hours.
Wakili charged principals to ensure compliance with the ban by their students at all time.
He said that any student found using mobile phone or speaking the mother-tongue should be sanctioned by the school authority.
Wakili said the introduction of French language and entrepreneurship subjects had also posed challenges to the education sector.
Earlier in a welcome address, the Permanent Secretary in the ministry, Malam Abdullahi Hudu, expressed satisfaction with the turn out of the principals at the meeting.
In his remarks the, the Chairman of the state chapter of All Nigeria Principals of Secondary Schools Conference, Malam Hussaini Abdullahi, commended the ministry for the decisions.
Kaduna
Malam Garba Ibrahim, the Chairman of National Union of Local Government Employees (NULGE) in Kudan Local Government of Kaduna State, Malam Garba Ibrahim has called for the separation of local government and state joint accounts for accountability.
Ibrahim made the call in an interview with our correspondent at Hunkuyi, the headquarters of the local government.
He said the joint account was not in line with the wishes and aspirations of the people as majority of the people were not happy with the way local government funds were being managed through the joint account.
"There is no autonomy in project execution because people have no right to request from their chairmen the kind of projects they need.
"Projects are supposed to be in line with needs and aspirations of beneficiaries; however, the state governors decide whatever they like for the people,'' Ibrahim said.
He said when such joint account was separated, there would be proper accountability because each chairman would be accountable for the money allocated to his council.
Kogi
Governor Idris Wada of Kogi State has pledge his administration' s resolve to ensure good governance by adhering to the principle of separation of powers and rule of law.
Wada made the pledge on Monday at the official inauguration of the newly constructed Judicial Service Commission (JSC)Secretariat extension in Lokoja.
The governor said he would not interfere in the affairs of other arms of government as they are equal partners.
"I will do my best to accord respect to the three arms. I will be a law-abiding governor."
Wada commended the Chief Judge, Justice Nasiru Ajanah, for taking the state judiciary to greater heights in the administration of justice and provision of infrastructure.
He assured that things would soon change for better in all sectors of the state's economy as his administration was doing all it could to improve the financial position of the state.
Speaking earlier, the Chief Judge described the JSC as the "Engine room" of the Judiciary as it is saddled with the responsibility of appointments and recommendations for appointment of High Court Judges.
Kwara
A suspect awaiting trial, Stephen Okon,  has expressed disappointment with members of his family for their failure to pursue his bail since he was arrested a year ago.
Okon was pardoned on Friday by the Kwara Criminal Justice Committee in Ilorin.
Okon, awaiting trial since March 17, 2011, told our source that he was punished for offences he knew nothing about.
Our source reports that the accused was arraigned for alleged mischief by fire and causing grievous hurt, before he was released by the committee headed by Kwara Chief Judge, Justice Raliat Elelu-Habeeb.
Okon, a father of two, was alleged to have burnt a shop beside his own at Eyenkorin, where he sold petrol as a black marketer.
The accused, according to the police prosecutor in the case, Insp. Abdulkareem Jimoh, was not caught in the act, but was arrested on suspicion that there was an impending misunderstanding between him and the owner of the burnt shop.
The pardoned inmate, who claimed to have his nuclear family in Ibadan and a brother in Sierra Leone, told newsmen after he was released that he was shocked that none of his family members bothered to secure him bail.
"I'm very disappointed in my family because this is the first time I would be arrested by the police and nobody showed up.
"I prayed to God to save me and my family because I'm a family man. I have two children and a wife. They are in Ibadan.
"I have not been detained like this before. This is the first time I would have a case with police and I ended up in prison", he said.
He explained that a friend who was coming from Rivers to secure his bail was involved in an accident in which he broke his leg.
"He has been in the hospital for more than four months now. When I communicated with him, he told me that his situation could not allow him to pursue my freedom", Okon said.
Lagos
The  Chief Executive, of the National Drug Law Enforcement Agency (NDLEA), Ahmadu Giade, on Tuesday in Lagos advised members of the public to shun the temptation of raising money from illicit drugs.
He said this was necessary in order to avoid problems as the long arm of the law would not spare any offender when caught.
Giade was reacting to the agency's arrest of a 43-year-old trader.
The trader was arrested for allegedly being in possession of substances suspected to be heroin and weighing 500 grammes, and said to be worth N2 million.
"It is morally wrong for anyone to turn to drug trafficking as a means of getting capital to start business.
"The agency will continue to invoke relevant sections of the NDLEA Act against offenders,'' Giade said.
He said it was worrisome that the suspect actually invested the sum of N 2 million in the ill-fated illicit drug transaction.
"It would have been better for him to have put his money into something that will be legitimate and more profitable than this kind of illegal business.
"I urge others that may be having such thoughts or plans to have a re-think,'' Giade said.
Nasarawa
The Nasarawa State Police Command has confirmed an attack on its mobile base in Akwanga by unknown gunmen in which one corporal was shot dead.
The command's Public Relations Officer, Mr Cornelius Ocholi , told newsmen on Monday in Lafia that the incident took place on Sunday night.
Ocholi said that the gunmen, whose numbers could not be ascertained, stormed the Mobile Police 38 Base in Akwanga through a bush path at about 1: 00 a.m. and started shooting sporadically.
He said that policemen on duty quickly responded by engaging the attackers in a gun battle which resulted in the death of one officer whose name Ocholi gave as CPL. Madaki Yusuf.
The police spokesman explained that the late officer was hit by a bullet during the gun battle and all efforts to save him by medical personnel at the Ola Hospital in Akwanga failed.
He said that normalcy had been restored in the area saying, "the Squadron Commander,CSP. Reuben Abibo, has put men on alert at the base.
"Even the state's Police Commissioner, Mr Abayomi Akeremale, is on his way to Akwanga now to assess the situation. ''
Taraba
Governor Danbaba Suntai of Taraba State has imposed a dusk-to-dawn curfew in the state with immediate effect.
The governor announced the curfew on Monday evening after visiting the Ministry of Finance in Jalingo, scene of an explosion in which 11 people were killed and scores injured.
Suntai said the curfew, which will be on from 6 p.m. to 6 a.m. everyday, would be in force until further notice.
Our correspondent reports that law enforcement agencies in the state have been directed to ensure strict compliance with the curfew.
The governor condemned the blast and expressed condolence to the bereaved.
He also visited the Federal Medical Centre, Jalingo, where he expressed sympathy with the victims receiving treatment there.
He said the government would pay all their hospital bills and directed the management of the hospital to forward bills to the Government House for payment.
He said that government and other law enforcement agencies were on red alert to stop further loss of lives and property.
FG Vows To Check Modern Day Slavery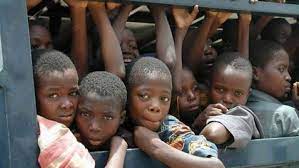 The Federal Government says it plans to check modern day slavery through awareness creation activities on the effects of illegal immigration, child labour, sexual abuse and other vices.
Director, International Cultural Relations, Federal Ministry of Information and Culture, Mrs Memunat Idu-Lah, stated this in an interview with The Tide source in Abuja yesterday.
The United Nations Educational, Scientific and Cultural Organisation (UNESCO), designated August 23 each year as the International Day for the Remembrance of the Slave Trade and its Abolition, and Nigeria is preparing to join other member countries to commemorate the day.
Idu-Lah said the ministry in collaboration with other relevant stakeholders would use the celebration to showcase the experience of victims of trafficking, to educate Nigerians on the tricks of potential traffickers.
She said: "We are looking at the effect of this slave trade on Africans and the effects of what we termed as modern day slavery.
"We have learnt in history about how people are enslaved; now we can see how people are being trafficked.
"There is illegal immigration where people are moving to locations they are not sure of their means of livelihood.  Many of them die in transit, all those vices, child labour, sexual abuse, all sorts of things that are going on.
"We want to see how we can use this celebration to also reach out to people to create awareness, let them know that these things people are doing are another forms of slavery.
"And it means we are not yet out of slavery, as of those of us who went to school and study history, we learnt of Trans-Atlantic slave trade.
"We should be able to look at what is happening now and correct these modern day slavery."
According to her, this is because generations to come will sit down and read what we did during our own time.
"It will be bad if we as educated as we are, cannot check this modern day slavery that is going on.
"One of the ways of checking it is through awareness because a lot of people don't even know when they are being lured to be trafficked, they don't know.
"Through this celebration, we can reach out; we might be having people who have experienced it,
"They will come out to tell people their experiences and alert people on the kind of languages traffickers use, how they lure them.
"People will get to know that when somebody comes and says those kinds of things they will know that this is a possible trafficker," Idu-Lah said.
Imo Police Resist Armed Bandits' Attack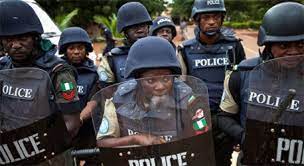 The Operation Restore Peace team of the Imo State Police Command has repelled armed bandits attack at Njaba town in the Njaba Local Government Area of the state.
The Imo State Commissioner of Police, Mr. Abutu Yaro disclosed this in a statement issued by the Command's Public Relations Officer, CSP Michael Abatham at the weekend.
According to him, the convoy of bandits was moving towards Njaba town to launch an attack but were intercepted by Operation Restore Peace team of the Nigeria Police , Imo State Command . 
The Commissioner explained that during a fire fight which ensured immediately, one of their operational vehicles was de-mobilised and two of them neutralised while the remaining ones scampered into the bush.
According to the Commissioner, one Ak 47 rifle was recovered with ten rounds of live ammunition and a locally made double barrel pistol with two expended cartridges.
The Police boss stated that the team detonated an Improvised Explosive Devices (IED) into the parking lots of a nearby Njaba Police Station causing minimal damage. 
 Mr. Yaro said that cordon and pursuant exercise is on going  in the area while advising members of the public residing in the area not to panic as the ongoing Police clearance operation is designed to root out violent criminals in that axis.
He appealed to them to avail Police information of  persons seen treating  bullet wounds or hiding within the community.
NDLEA Intercepts 35 Wraps Of Cocaine, Drugs En Route Italy, Turkey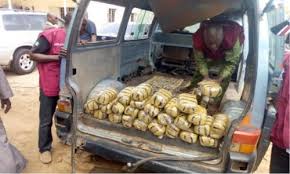 The National Drug Law Enforcement Agency (NDLEA), says it has recovered 35 wraps of cocaine from a lady passenger at the Murtala Mohammed International Airport (MMIA), Ikeja, Lagos.
NDLEA's Director of Media and Advocacy, Mr Femi Babafemi, disclosed this in a statement made available to The Tide source yesterday in Abuja.
Babafemi said that the suspect, Okafor Ebere Edith was arrested on July 31, during the outward clearance of passengers on Air Cotevoire bound to Monrovia Liberia.
He said the suspect, who tucked pellet of cocaine in her underwear to beat security checks at the airport, was however picked up for search.
This, he said, included questioning during which the wraps of the illicit drug were found on her.
"During preliminary interview, the suspect claimed that the desire to make money pushed her into drug trafficking," he said.
Babafemi said the operatives arrested another suspect, Echendu Jerry Maduakolam, an intending male passenger going to Istanbul, at Gate A Departure hall of the MMIA on July 27.
He said the suspect was arrested during outward clearance of Egypt Airline bound to Turkey in possession of 78grams of Cannabis mixed with dried bitter leaf.
"On the same day another intending male passenger, Egbon Osarodion going to Milan, Italy was arrested at the airport's Gate A Departure hall.
"This was also during outward clearance of passengers on Egypt Airlines with different quantities of 225mg Tramadol and Rohypnol concealed in foil papers wrapped in a polyethylene bag," he said.
Babafemi disclosed further that NDLEA operatives, Kontagora Area Command, Niger State, raided a warehouse at Mailefe village in Kontagora Local Government Area of the state.
The spokesman said the operation was carried out on July 29, at a warehouse where suspected drug supplies for bandits operating in parts of the state were stored.