NGOs Okay SNEPCo's Spill Clean-Up Strategy
Key non-governmental organisations in Nigeria have given a clear backing to the strategy adopted by Shell Nigeria Exploration and Production Company (SNEPCo) in the clean-up of the December 20, 2011 oil spill on its Bonga Floating, Production, Storage and Offloading (FPSO) facility offshore Niger Delta.
Bonga had spilled about 40,000 barrels of oil into the deep-water aquifers some 200 kilometres offshore Warri,  Delta State,  following an unexpected leak from a flexible export line linking the FPSO vessel to the tanker, loading crude from the facility.
Speaking shortly after an assessment tour of the facility and the deep-water environment, last Thursday in Port Harcourt, President, Nigeria Conservation Foundation, Prof Emmanuel Obot, confirmed that Shell's claim of effectively deploying dispersants to contain the crude spilled into the water body was true, and affirmed that the spill has been dispersed.
Obot, who is also the chief executive of the International Union for Conservation of Nature and Nature Resources (IUCN) in Nigeria, said although the spill has been dispersed, it was difficult at this time to determine the extent of damage to biodiversity because of the swift response to the clean-up exercise and the short stay of the spill on the water body.
The NCF chief executive officer commended Shell for rising up to the occasion by deploying all necessary equipment and mobilising expert manpower from across the globe to clamp the leak, and isolate the tanker.
While cautioning Shell to guard against any reoccurrence in the near future in order not to dampen hope in the dependence and reliability of the abundant hydrocarbon resources in the deep-water area, Obot urged operators in the deep-water horizon, especially Shell to ensure that products that meet international standards are used in their operation.
Short of indicting Shell for allowing the use of substandard products in the crude loading process offshore, the IUCN representative cautioned that equipment failure should never be tolerated as such could result in massive destruction of biodiversity, huge revenue loss, as well as dangerous exposure of workers to unwanted death and or injury.
Other experts with specialty on environmental sustainability, who participated in the tour, are Dr Tony Chovwen of Living Earth Foundation, Gogo Ubulom of Pro Natura International Nigeria, a representative of CLEAN Nigeria Associates and two representatives of Coalition of Civil Society Organisations (CCSOs) in the Niger Delta region with interest on environmental issues management.
With headquarters in Gland, Switzerland, the IUCN was founded in October, 1948, as an international organisation dedicated to finding "pragmatic solutions to our most pressing environment and development challenges."
It supports scientific research, manages field projects all over the world and brings governments, non-government organisations, United Nations agencies, companies and local communities together to develop and implement policy, laws and best practice.
IUCN is the world's oldest and largest global environmental network – a democratic membership union with more than 1,000 government and NGO member organisations, and almost 11,000 volunteer scientists in more than 160 countries, and more than 1,000 professional staff in 60 offices and hundreds of partners in public, NGO and private sectors around the world.
IUCN's stated vision is to create "a just world that values and conserves nature" while its mission is to "influence, encourage and assist societies throughout the world to conserve the integrity and biodiversity of nature and to ensure that any use of natural resources is equitable and ecologically sustainable."
Inflation Rate Falls To 16.63%  – NBS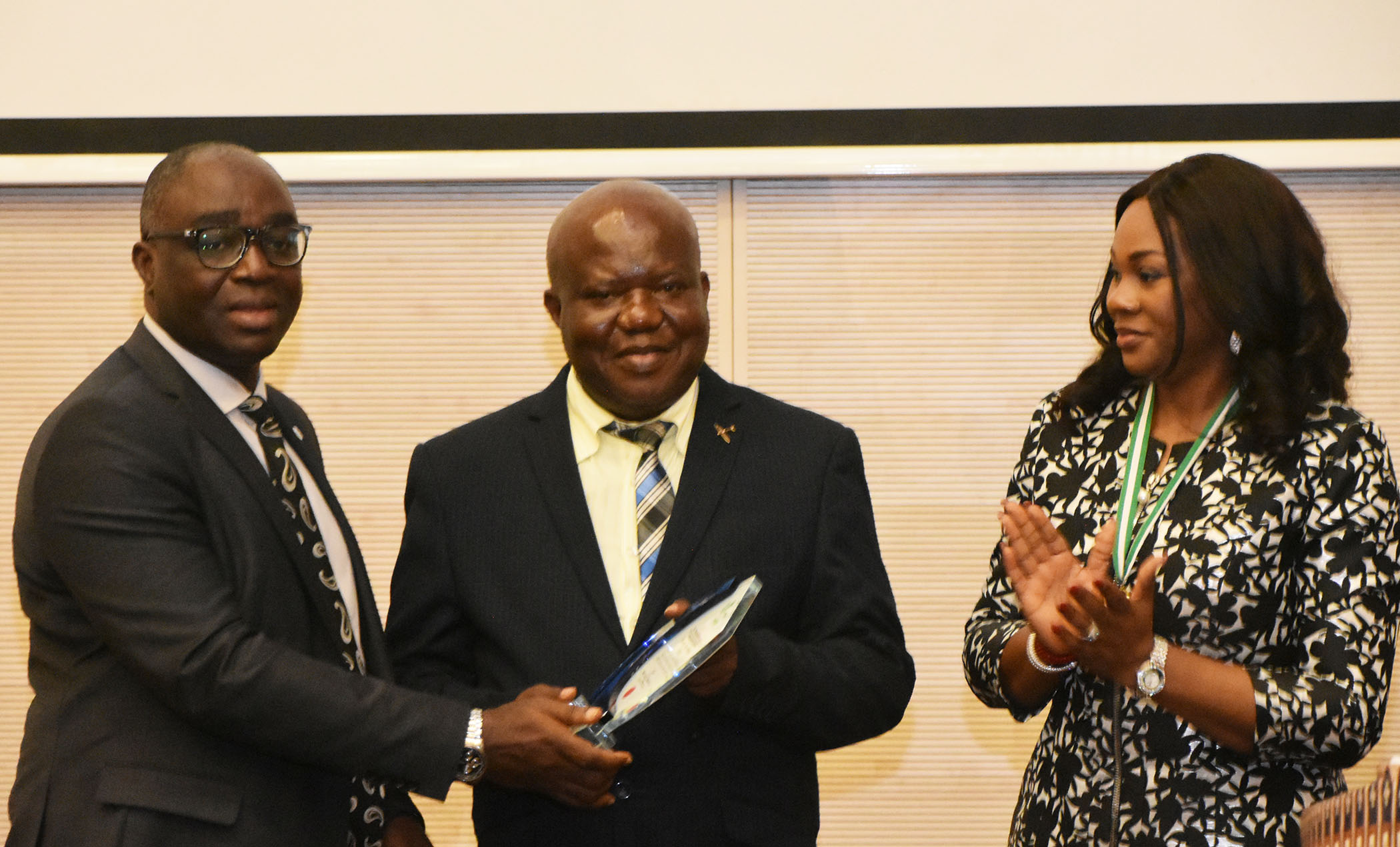 The rate of inflation in Nigeria has declined for the sixth consecutive month to 16.63 per cent in September, which is its lowest level since January this year, the National Bureau of Statistics (NBS) has said.
The Bureau, in its Consumer Price Index released on Friday, said the inflation rate fell by 0.38 per cent from 17.01 per cent in August.
The drop in headline inflation began in April when it fell to18.12 per cent from 18.17 per cent in March.
According to NBC, the urban inflation rate increased by 17.19 per cent (year-on-year) in September 2021 from 17.59 per cent recorded in August 2021, while the rural inflation rate increased by 16.08 per cent in September 2021 from 16.45 per cent in August 2021.
It said farm produce such as bread, cereals, cocoa, meat, coffee, tea and cocoa drove food inflation, fell to 19.57 per cent in September from 20.30 percent in August.
Other items that led to the rise in the composite food index in September included oils and fats, yam and other tubers, fish, potatoes, milk, cheese and egg.
"On month-on-month basis, the food sub-index increased by 1.26 per cent in September 2021, up by 0.20 per cent points from 1.06 per cent recorded in August 2021", the NBS stated.
 The Statistician-General of the Federation, Simon Harry, said the fall in the inflation rate signalled an improvement in government performance and more favourable economic conditions.
"The inflation rate in Nigeria has maintained a consecutive decline in year-on-year for a period of six consecutive months, starting from March 2021 to August 2021", he said.
By: Corlins Walter
5G Now At 97% Completion, As NCC Moves To Auction Spectrum
The Nigerian Communications Commission (NCC) has said that the plan for deployment of Fifth Generation technology in the country has gotten to 97 per cent. 
Executive Vice Chairman of NCC, Prof. Umar Danbatta, disclosed this at the annual African Tech Alliance Forum with the theme 'Embracing changes and digital transformation in the new normal'.
According to a statement titled 'NCC update on plans for 5G deployment' issued  by the NCC's Deputy Manager, Public Affairs, Kunle Azeez, the commission stated that some spectrum would be auctioned.
"Already, we are set for the auction of some spectrum slots in the 3.5GHz band. The other day, I was at the National Assembly, I informed the Senate that we were 95 per cent ready for 5G.
"Today as we speak, I am delighted to tell you that we are already at 97 per cent completion. 
"The committee set up to auction the spectrum has already developed an information memorandum which is already published for inputs and comments from all industry stakeholders.
"Prior to this, a 5G deployment plan was developed and we have since secured the Federal Government's approval", the commission stated.
The commission also explained that because of the Covid-19 pandemic, almost every means of communication became virtual, which led to an increase in network connectivity requirements as a result of unprecedented upsurge in internet traffic.
Danbatta added that even though the network infrastructure in the nation demonstrated some capacity to contain the surge in internet traffic, a lot of work was being done by the commission to boost network capacity, sensitise the public and ensure accessibility to affordable connectivity.
"Emerging technologies such as 5G, which NCC is driving aggressively in Nigeria, Internet of Things; Cloud Computing; Quantum Computing Augmented/Virtual Reality, and similar emerging technologies are playing a critical role in improving remote communication over the internet with great user experience.
"The NCC is committed to promoting this inevitable change and enhancing user experience through effective regulation of the telecoms sector", he stated.
Nigeria's Debt-To-GDP Ratio To Hit 42% By 2026 – IMF
The International Monetary Fund (IMF) has projected that Nigeria's Gross Debt-to-Gross Domestic Product ratio will rise from 35.7 per cent in 2021 to 42 per cent by 2026.
The IMF stated this in its October 2021 Fiscal Monitor Report published on its website.
It said the country's gross debt-to-GDP ratio would increase from 35.7 per cent in 2021 to 36.9 per cent in 2022, 37.7 per cent in 2023, 39.1 per cent in 2024 and 40.6 per cent in 2025.
According to the report, the gross debt includes overdrafts from the Central Bank of Nigeria (CBN) and liabilities of the Asset Management Corporation of Nigeria (AMCON). 
It added that the general government's revenue-to-GDP ratio would decrease from 7.2 per cent in 2021 to 6.5 per cent in 2026, while the general government expenditure-to-GDP ratio would decrease from 13.3 per cent in 2021 to 12.6 per cent in 2026.
The global financial institution said that the general government net debt-to-GDP ratio would increase from 35.3 per cent in 2021 to 41.8 per cent in 2026.
"The overdrafts and government deposits at the Central Bank of Nigeria almost cancel each other out, and the Asset Management Corporation of Nigeria debt is roughly halved," it added.
The report said for low-income developing countries like Nigeria, average gross debt in 2021 would likely remain stable at almost 50 per cent in 2020, while debt vulnerabilities "are expected to be high.