Fabregas Dilemma, Sign Of Tough Times For Arsenal
Two weeks ago, Ivan Gazidis, all too aware of unprecedented levels of dissent among his club's fans, promised a stormy meeting of the Arsenal Supporters' Trust that the time had finally come for change.
"We're going to see some turnover of players, some new signings coming in. I expect it will be a busy close season for the club," the chief executive insisted.
Gazidis knew he was under pressure. Having at one stage been fighting for trophies on four fronts last season, the team's prospects fell apart following the shattering Carling Cup final defeat by Birmingham City and they eventually finished fourth in the Premier League, and trophyless for a sixth consecutive season.
That, combined with a controversial decision to increase ticket prices and the uncertainty created by elusive American billionaire Stan Kroenke's effective takeover, left the bond between club and fans as fragile as many AST members could remember.
"We're working hard, very hard. We need to correct failings that we have, and there'll be some new signings and some departures," said Gazidis, heralding a watershed summer.
Since then, Arsenal's fans have had to sit and watch while champions Manchester United have strengthened with the big-money acquisitions of Phil Jones and Ashley Young, Liverpool have spent similar amounts on Jordan Henderson, and Chelsea have completed the most expensive managerial signing in history by recruiting Andre Villas-Boas from Porto.
Meanwhile, at the Emirates, they've had to make do with the £1m capture of Carl Jenkinson from Charlton – and the focus of transfer activity is now on the possibility of their captain leaving, rather than any incoming new faces.
Barcelona's reported bid for Cesc Fabregas is no surprise, given their long-standing interest in bringing the midfielder home. Equally, the player himself clearly wants to return – but what may have shifted is Arsenal's attitude.  My understanding is that Barcelona would like to conclude a deal when Fabregas is back in the city next week, visiting friends and family.
They would prefer to do business before he is forced to return to pre-season training in London on 5 July, enabling him to go on Barca's tour to the US, and avoid the messy, late negotiations that did little for relations with Arsenal last close-season.
So what should Arsenal do if and when a raised bid comes in? On the one hand they are well within their rights to follow the lead of Spurs when rebuffing Chelsea's pursuit of Luka Modric, and ignore Barcelona again.
Fabregas still has four years of his contract left to run so Wenger has no need to panic yet. Perhaps most decisively, if Gazidis and Kroenke think the mood among the fans is hostile now, just wait until they allow Fabregas to leave for less than his worth. They know this and may not dare countenance such a move.
However, Barcelona have other transfer targets and their maximum spend of £35m falls significantly short of Arsenal's valuation for their midfielder, and until this gap closes any deal remains unlikely.  The Spanish club knows it will get its man one day, perhaps at a time in the future when he would fit more easily into their stellar side, so their president Sandro Rosell may simply say the right things to please the club's members, but then fail to raise his offer sufficiently.
And yet, for the first time, Arsene Wenger may be prepared to think the previously unthinkable. Fabregas' recent injury problems, (he scored just three league goals last season), the emergence of Jack Wilshere and the problems associated with retaining an unsettled player may mean the manager allows his captain to leave.
Wenger may look at the way United and Liverpool have survived and then thrived following the painful departures of icons Cristiano Ronaldo and Fernando Torres respectively, and begin a much-needed revamp in spectacular style.
But Arsenal have another problem. The harsh reality is that despite being 95% owned by two billionaires, Kroenke and Alisher Usmanov, and boasting a fantastic stadium, the club is no longer in the same financial league as the likes of Manchester United, Chelsea and Manchester City when it comes to player wages and transfer spend.
To some extent this can be put down to a noble emphasis on sustainability at a time when loss-making has become the norm in the Premier League, and with Uefa's Financial Fair Play rules on the horizon, the club's foresight should be recognised.
But just like on the pitch, Arsenal are also guilty of financial underperformance. In the 2009-10 season, for instance, the club's commercial revenue of £44m was almost half of that of United's £84m.
Seven years ago, rather than issue equity but dilute their highly profitable stakes in the club, Arsenal's principal share-holders sold long-term naming rights for their new stadium and struck a shirt-sponsorship deal as part of the same agreement.
Today, Manchester United, Liverpool, Chelsea, Spurs and Aston Villa all have more valuable deals, but Arsenal are locked in, hence the club's commercially-driven pre-season tour to the Far East next month, which will go ahead despite Wenger's reservations.
"We're well behind the clubs we're expected to compete with in revenue," admitted Gazidis a fortnight ago.
"We're competing with clubs who spend a lot more than us, so our spend must be as efficient as possible."
This all matters because as well as the uncertainty over Fabregas, the club has also allowed the contracts of players like Gael Clichy and Samir Nasri to run down, and both are now deciding whether to stay at the Emirates.
Arsenal are now in advanced negotiations with three key targets, with Phil Jagielka, Gervinho and Ricky Alvarez all linked with a move to the club, but many fans feel that Wenger, due to his distaste for the kind of "financial doping" he sees at other clubs, is too loyal to the principle of developing talent rather than simply buying it in.  Certainly, rival clubs have become equally familiar with the French talent pool of young players that Wenger has traditionally scoured for value signings.
Others believe Wenger badly misses the guidance and decisiveness of his friend, former vice-chairman David Dein, the man responsible for many of the club's most successful signings in the first decade of the manager's tenure.
Four years after he left the club, Dein's return would perhaps help when it comes to the issue of Fabregas. His son Darren is the Spaniard's agent, another twist in a long-running saga. Certainly, the bitter battle between Kroenke and Usmanov, who recently criticised the board for the recent lack of silverware, can hardly help when it comes to a consistent transfer strategy.
Usmanov now owns close to the 30% of shares required to be granted access to the club's detailed financial accounts under Premier League rules. He is expected to take up that opportunity in order to highlight where mistakes have been made over player contracts. Some feel that Gazidis is struggling, that Kroenke is too distant and needs to communicate directly with the supporters for the first time since taking control.  Perhaps no other club in the Premier League better demonstrates the tension between ambition and responsibility. There is tension between the main shareholders. There is tension between the board and the fans. And there is tension between Arsenal and Barcelona over what to do about Fabregas.
Arsenal's decision over their captain will set the tone for the club for seasons to come. But whatever Arsenal now does, the saga has highlighted challenging times for a traditional club struggling to adapt to the modern footballing landscape.
Dan Roan is with BBC Sports
Infantino Reveals How Nigeria Can Host FIFA Competitions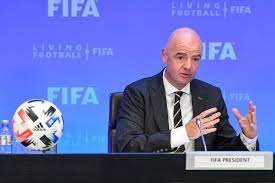 FIFA President, Gianni Infantino last Thursday, in Abuja, revealed how Nigeria can be made a destination for top Grade A football matches and FIFA competitions.
Infantino gave the insight when the Minister of Youth and Sports Development, Sunday Dare took him on a tour of the renovated main bowl of the MoshoodAbiola National Stadium.
The FIFA boss, who was visibly happy with the re-grassed pitch at the stadium, said well-maintained stadia with good pitches were key to hosting grade A matches.
He said FIFA was ready to work more closely with Nigeria to develop the game and host more grade A matches in the country.
"We (FIFA) have to make sure when a country, when a government with the President, the minister and private persons are investing in football, in stadia, we work with them to give something back.
"It's obvious that stadiums like this (MoshoodAbiola stadium) and others in Nigeria deserve the best quality games.
"They deserve top national team games, top club games and it's not just about Nigerian football or African football, it's about global football.
"We are working together to see what kind of new opportunities, competitions we can bring for men and women to fill this stadium and make the heart of the stadium beat for the fantastic spectacle that all of the Nigerian love, which is football," he said.
Earlier, the minister said the Federal Government will continue to invest in sports development and facilities.
Tidesports source reports that the FIFA President, in the company of the minister, had earlier visited President Muhammadu Buhari at the Statehouse, as part of his engagement.
Why NFF Must Offset Rohr's Salaries, Bonuses  – Aikhomogbe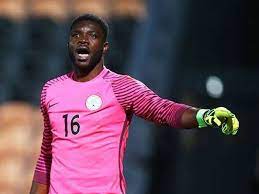 Former Nigerian goal keeper, Andrew Aikhomogbe has called on the Nigerian Football Federation (NFF) to resolve every outstanding salaries and bonuses owed to the Super Eagles coach, Gernot Rohr before the next World Cup qualifiers against Central Africa Republic (CAR).
Aikhomogbe made this known on the backdrop of the football body's recent deal with Baba Ijebu.
Although the financial details of the deal was not disclosed, Aikhomogbe in an interview with Newsmen from his base in Cairo, Egypt, stated that the NFF should use this platform to offset Rohr's salaries and bonuses.
"It's a big delight to know that the Nigeria Football Federation have signed a deal with Baba Ijebu and this will serve as an opportunity for them to use part of the money to pay Rohr's salaries and bonuses.
"There is no better time to motivate him than now before Nigeria's next 2022 World Cup qualifiers against the Central Africa Republic (CAR) on October," he said.
Enyimba Players Vow To Support  Finidi
Enyimba FC Goalkeeper, John Noble has stated that the players of the People's Elephants will be key to the success of the newly appointed coach of the team, Finidi George.
Finidi, signed a two-year deal with Enyimba and oversaw his first full training session with the team on Thursday after a cameo appearance on Wednesday.
Speaking in a chat with Tidesports source, Noble  gave his assessment of the coach in his first session under the manager and believes the former Super Eagles winger has what it takes to lead the team to the next level.
He added that the Enyimba players will be the ones to hand Finidi George his success at the club.