Drama As Nations Cup Kicks Off …Mali Stuns Angola In Surprise Comeback …Togolese President Orders Team Back Home
The 27th African Cup of Nations got under way in Angola last night with an impressive opening ceremony that most highlighted their traditional and cultural heritage.
But it was the dramatic opening match between the hosts and Mali that probably held the neutral watchers spellbound and the home fans at the November 11 Stadium, Luanda stunned.
The Palencas Negras, as the Angolan National team is fondly called threw away a hefty 4-0 lead and allows the Eagles of Mali to record a historic comeback form the dead.
While the star studded Mali side led by Frederic Kanoute of Sevilla FC and Mahamodou Diarra of Real Madrid, both of the Spanish La Liga, struggled to string parses together, Angola's attack led by Flavio and Manucho forced Mali's defence to make mistakes.
As the first half wore on, the hosts, apparently buoyed by the electric atmosphere and home support began to impose themselves on the game.
Two headed goals in a space of five minutes by Flavio ensure that Angola ended the first half in a very strong position for a dream start to the Nations Cup.
In the second half, Mali showed early sign of comeback when they created their first real scoring chance, which was fluffed by Skipper Mahamadou Diarra inside the six yard box.
But it was the Angolans, aided by woeful defending and poor overall play Mali, that grabbed two more goals from the penalty spot.
The first was a gift when Bagayoko tripped impressive wingback, Gilberto inside the box and defender picked himself up to score.
The second was a soft penalty after Gilberto easily went to the ground from the slightest of touches by Seydou Keita.
Mnucho converted the opportunity to give the hosts a seemingly insurmountable 4-0 lead in the 74th minute.
But five minutes later, the Mali revived and came back again.
Calamitous goalkeeping off a corner kick by Angola's Keeper allowed Keita to scrambe home Mali's firs goal in the 79th minute.
Angola's late substitution of two goals scorer, Flavio proved to be a premature celebration as the side lost steam and Keita motivated Mali to a later Surge. An exquisite head by Kanoute in the 88th minute reduced the tally to 4-2.
The Malians were afforded a further five minutes of added time and they made every second count.
Keita latched onto a cross to slam home his second and Mali's third goal, while Yattabore stunned the hosts with the equalizer at the death of record, probably the Nations Cup's biggest comeback in history.
Meanwhile, Togo has finally withdrawn from the continentwide soccer tournament and its players reluctantly left Angola yesterday, two days after a deadly ambush on the team bus killed three and injured eight. A separatist leader warned, however, that violence would not likely end.
It took a call from Togo's president to persuade the players to leave the African Cup of Nations; they said they wanted to stay and compete in honour of the assistant coach, team spokesman and Angolan bus driver who died in Friday's attack.
The government dispatched the presidential plane, while Togo's Prime Minister Gilbert Houngbo said Angola had not done enough to protect the team after the attack in Cabinda-the oil-rich region in northern Angola which has seen occasional separatist violence.
"We fully understand our government's decision to leave because they didn't receive enough guarantees for our security," forward Thomas Dossevi told The Associated Press. "We as players, we wanted to stay to honor the memory of our dead people, but both positions are understandable."
Togo team captain Emmanuel Adebayor, speaking in an interview with France's RMC radio Sunday, said the team had decided finally to "pack our bags and go home" after the Manchester City striker got a call from Togo President Faure Gnassingbe himself urging them to return.
"That's what made the difference," Adebayor was quoted as saying in a transcript of his interview on RMC's Web site.
Boarding the plane, Adebayor told journalists: "We have to mourn our dead. We go back home to do this."
Togo Sports Minister Christophe Padumhokou Tchao, who was accompanying the team home, told the AP three days of mourning had been declared in his homeland.
"We can't be in a period of mourning and at the same time be in the festival" of sport, he said. He added Togo had asked organizers to postpone the tournament.
The airport scene was chaotic, with dozens of police struggling against a crowd of Journalists. Two planes carrying the players and officials then sat on the tarmac for several hours before taking off.
The tournament began earlier Sunday with an opening ceremony in a Chinese-built stadium in the capital, Luanda, livened by fireworks as well as both traditional and contemporary performers. Several African heads of state attended, including President Rupiah Banda of Zambia and South Africa's Jacob Zuma, whose country will host the World Cup later this year.
"Despite the terrorist attack, Cabinda will remain a hosting city," Angolan President Jose Eduardo dos Santos said in an opening speech. "There is no need to be afraid."
Most top officials of the African Football Confederation, known by its French initials CAF, went Saturday to Cabinda, where some of the injured were still recovering, and implored Togo to stay.
CAF president Issa Hayatou said he'd received a guarantee from Angola Prime Minister Antonio Paulo Kassoma that security would be beefed up for all teams and at all venues.
Nancy Briggs
PDP Kicks As INEC Declares APC's Lyon Winner In Bayelsa… Commission Concludes Kogi's Guber Poll Results Collation, Today… We Remain Strong, United -PDP …Observers Urge INEC To Reject Results In Bayelsa
Chief David Lyon, the governorship candidate of the All Progressives Congress, APC, has been declared winner of the governorship election held in Bayelsa State on Saturday.
Lyon polled 352,552 to defeat his rival from the Peoples Democratic Party, PDP, Duoye Diri, who got 143,172 votes, according to official results announced by the Independent National Electoral Commission,
INEC's Returning Officer of the election and Vice-Chancellor of the University of Benin, Professor Faraday Orunmuwese, around 1:03am on Monday.
He said, Lyon, having satisfied the electoral criteria by scoring the highest number of vote cast was hereby declared winner of the governorship poll.
The APC recorded more than a landslide result in Southern Ijaw, polling a gargantuan 124,803 votes against the PDP's 4,898 votes. The result is certainly APC's joker in the poll.
Official results in the eight local government areas had APC's Lyon winning with 352,552 while PDP's Duoye Diri has 143,172.
In Ogbia, the local government of former President Goodluck Jonathan has Lyon in massive win. Lyon got a massive vote of 58,016 to defeat the PDP's candidate, Douye Diri who scored 13,763 votes.
Also, Lyon won massively in Nembe, the local government of former Governor of the State and Minister of State of Petroleum, Timipre Sylva.
Lyon won by a landslide in Nembe, polling 83,041, as against Diri's paltry votes of 874.
However, Lyon suffered a massive loss in the Sagbama Local Government Area, home of Governor Seriake Dickson.
The PDP recorded a landslide in Dickson's LGA, polling 60,339, while the APC scored 7,831 votes. Accord Party got 131 votes.
In Kolokuma/Opokuma LGA, APC polled 8,934 to lose to the PDP, which scored 15,360.
In Brass LG, APC claimed victory, with a total vote of 23,831, while PDP got 10,410 votes.
In Ekeremor Local Government, Lyon polled 21,489 votes to edge out PDP's Diri, who scored 18,344 votes.
Meanwhile, the Returning Officer for the election and Vice Chancellor of Ahmadu Bello University (ABU), Zaria, Professor Ibrahim Umar says the collation of results in the governorship election in Kogi State will be concluded today. He announced this yesterday in Lokoja, the Kogi State capital.
Professor Umar told party agents and other political stakeholders present at the INEC office where the collation of results took place that the exercise would continue by 9am on Monday.
He explained that the announcement was necessary as the results of the election in the remaining two local governments have yet to be brought to the collation centre.
The announcement followed the collation of results of the election in 19 out of the 21 local government areas (LGAs) in Kogi.
Those collated so far are Adavi, Ajaokuta, Ankpa, Bassa, Dekina, Idah, Igalamela-Odolu, Ijumu, and Kabba/Bunu LGAs.
Others are Koton Karfe, Mopa-Muro, Ofu, Ogori/Magongo, Okehi, Okene, Olamaboro, Omala, Yagba East, and Yagba West LGAs.
The local governments where results are expected are Ibaji and Lokoja LGAs.
The incumbent governor and candidate of the All Progressives Congress (APC), Yahaya Bello, as well as the candidates of the Peoples Democratic Party (PDP) and Social Democratic Party (SDP), Musa Wada and Natasha Akpoti, are among the leading contenders in the election.
Of the results collated so far, it is a close battle between Bello who won 10 LGAs and Wada who claimed nine LGAs while Natasha has yet to win any local government.
However, the governor has so far polled 374,081 votes and taken the lead with over 200,000 votes as his PDP and SDP rivals scored 168,141 and 8,539 votes respectively.
However, the Peoples Democratic Party (PDP), yesterday rejected what it termed fictitious results being reeled out by the Independent National Electoral Commission, INEC, from Okene and other areas to favour the All Progressives Congress (APC).
PDP demanded the "immediate cancellation of such allocated results, particularly in Okene Local Government Area."
A statement by PDP's spokesperson, Kola Ologbondiyan, maintained that "nobody can accept the provocative alteration of results from polling units as well as allocation of fictitious votes, particularly the awarding of 112, 000 votes to APC in Okene."
PDP stated that the people of Kogi State have "glaring evidence of alterations of figures to reduce our vote of and allocate imported figures to the APC."
The party cautioned "INEC not to ever declare such mutilated results as they will not be accepted by the people."
"Our party hopes that this apparent moves to allocate fictitious results to the APC has no bearing with the allegations in the public space that Governor Yahaya Bello and the APC had compromised highly placed INEC officials with huge sums of money to alter result in favour of the APC.
"We, therefore, caution the INEC to note that any attempt to declare the figures being bandied for the APC will be a validation of the bribery allegation.
"The only way out is for INEC to cancel and drop the fictitious figures being bandied and declare only the results from votes cast and declared at the respective polling units," the statement added.
The PDP also raised objections to some of the results announced for the governorship election in Kogi State, in which the incumbent, Yahaya Bello is galloping away to victory.
Also, a coalition of civil society organisations have called for the rejection of results from areas where elections did not hold.
The coalition, representing various groups accredited by INEC as Observers for the Bayelsa election, made this call Sunday evening, at a press briefing in Yenagoa, as interim election report.
The election monitoring group said voting did not take place in Nembe and Ekeremor Local Government areas, including some units in Yenagoa, where violence marred the process.
Though, results from Ekeremor Local Government Area were still being expected, but INEC has collated the results presented from Nembe LGA, where the All Progressives Congress (APC) polled a total of 83,041 votes, leaving the ruling Peoples Democratic Party (PDP) with 784 votes.
But the observers said "Nembe LGA was the worst hit in pre-election and election related violence", stressing that, "Elections did not hold in Nembe LGA".
"On Wednesday, the 13th of November, 2019, a political party was having a campaign in Nembe LGA. Some blood thirsty gunmen came to the venue and opened fire without any provocation whatsoever, killing scores of law abiding Nigerians.
"Same gunmen prevented election from holding in Nembe LGA. Till the time of this briefing, there has been no arrests, no prosecution, thus increasing the impunity associated with committing such heinous crime as perpetrators are largely known and seen moving freely in such communities," the coalition stated.
The group also observed that, "In Yenagoa Ward 5, Epie 2 Ward 4, Apiffa 2 Ward 2 and Epie 3 Ward 6, elections did not hold.
"Some parts of Southern Ijaw were completely disrupted with violence. There was no elections in Ekeremor".
The observers expressed shock that, "Several communities in Bayelsa state were sacked, not due to flood or any natural disaster, but as a result of their affiliation to a particular political party", adding that, their interest was to preserve the democracy of Nigeria.
While berating the activities of the Nigerian security agencies in Bayelsa state, the observers want "politicians who sponsor, fund, aide or abate violence be made to face the full wrath of the law".
The observers also alleged that the fundamental human rights of citizens of Bayelsa, as enshrined in the Nigerian constitution, were grossly violated.
"What we saw in some LGAs in Bayelsa state is an aberration to this constitutional provision and grossly not in consonance with the provision of the Electoral Act 2010 as Amended.
"We observed that elections did not hold in some parts of Bayelsa State as it was grossly disrupted by violence, intimidation and ballot box snatching. In some instances, there were complete absence of voting materials and Ad hoc staff", the group added.
Present at the briefing are, Mr. S. B Bafunsho of Organization of Justice for Equity Sustenance; Dr. Isaac Onyike of Centre for Strategic Conflict Management and Comrade Peter Nwokolo of Citizens Rights & Leadership Awareness Initiative.
Others include, Sandra Osunde of Global Policy Advocacy & Leadership Initiative; Dr. Nwambu Gabriel and Rev. John Pofi of Reverend John Pofi Foundation.
Wike Recommits To Harmonious Host Communities, IOCs' Ties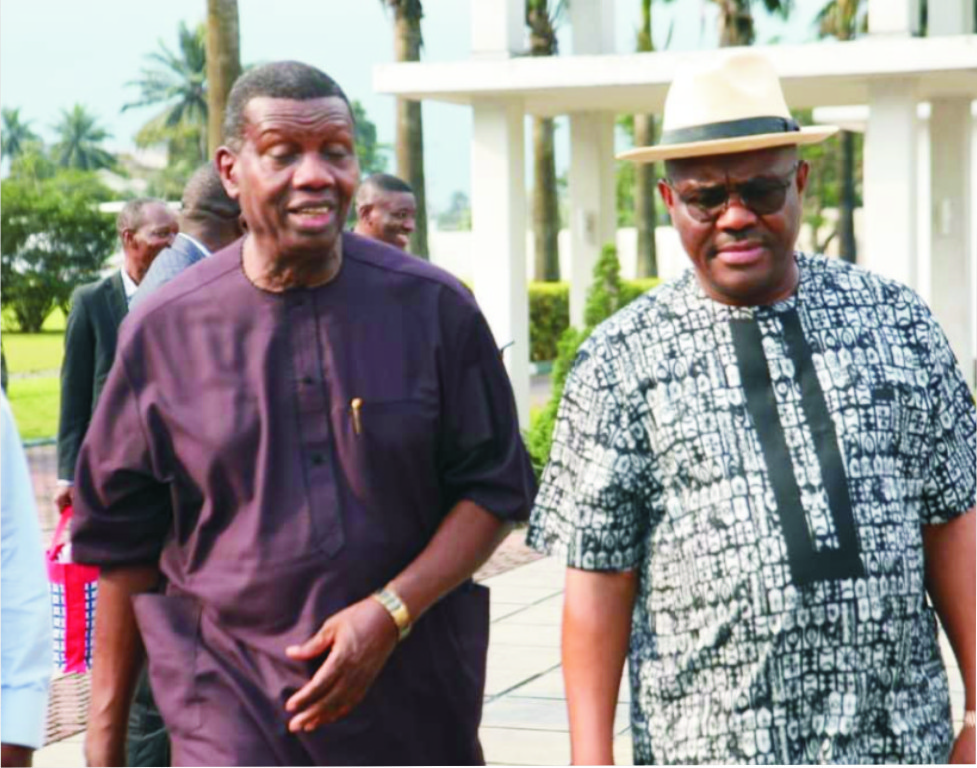 The Rivers State Governor, Chief Nyesom Wike has reemphasised that the state governments' aim as mediator in conflicts affecting oil companies and host communities was to ensure peaceful working relations that propel community development.
Wike said that most community-based crisis organisations experience could be averted, if they involved the Ministry of Chieftaincy and Community Affairs in dealings with host communities as well as abide by the GMoUs in the cause of carrying out their commercial activities.
The governor stated this in Port Harcourt during a peace meeting between Niger Delta Petroleum Resources Company, operators of OML 54 and its host communities, Ogbehe, Obumeze and Ugbokor in Ahoada East Local Government Area and Otari Community in Abua/Odual Local Government Area.
According to the governor, who was represented by the Secretary to the State Government, Dr Tammy Danagogo, corporations which are able to abide by signed GMoUs stand to experience less friction as most host communities want a fair share of their social responsibility.
"We don't like when host communities are distressed neither do we like operating companies disturbed," he said.
He further advised companies to desist from using force because community misunderstanding cannot be handled with harassment.
The closed-door meeting was attended by Niger Delta Petroleum Resources (NDPR) representatives led by the Manager, HSC, Tom-George Walter, House of Assembly member representing Abua/Odual, chiefs, youths and opinion leaders of both communities and the permanent secretaries of Ministry of Chieftaincy and Community Affairs, Special Service Bureau, Office of the Secretary to the State Government.
Meanwhile, the Rivers State Government is also mediating on the face-off between Prime Exploration and Production Ltd and Asarama community in Andoni LGA.
I'm Gov Because God Dislodged Forces Of Darkness On March 9 -Wike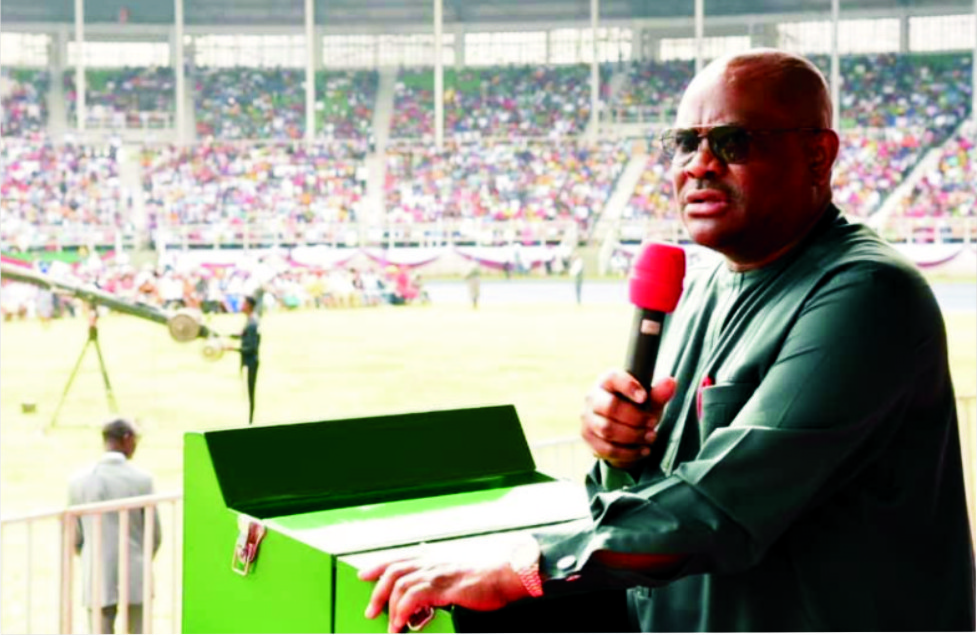 The Rivers State Governor, Chief Nyesom Wike has declared that he remains Rivers State governor because of the intervention of God who dislodged forces of darkness who were primed to rob the Rivers mandate on March 9, 2019.
Speaking during the Redeemed Christian Church of God (RCCG) Holy Ghost Rally at the Adokiye Amiesimaka, yesterday, Wike described himself as a living testimony of God's blessing.
He said: "Nigerians are aware of what happened on March 9, 2019. If anyone says he does not believe in God, that event of March 9 should make you believe God.
"But for God, the enemies would have taken over the state. I thank the church for standing firm. They prayed for God's will to be done and God's will was done. But for your prayers, I won't be here as Rivers State governor."
Wike said the criticisms on his declaration of Rivers State as a Christian State cannot stop him from affirming the reality.
The governor said: "Anytime I have the opportunity, I repeat the declaration with authority and I owe nobody an apology. I am standing on solid Authority. Rivers State is a Christian State."
He commended the Redeemed Christian Church of God for their sanitation programme, tagged 'Pick A Thrash'.
"If we have all churches embark on sanitation, our state will be cleaner. We will support this programme financially and we shall donate three vehicles to the church for the programme", he said.
Wike said that God has used the General Overseer of RCCG to bless Rivers State, adding that the Annual Holy Ghost Rally has been a blessing to the state.
In his remarks, the General Overseer of Redeemed Christian Church of God ( RCCG), Pastor Enoch Adeboye said everyone needs help, and noted that the best source to get help was from God.
Adeboye said: "No matter how influential and powerful, everyone needs help. Everyone needs help and the best help you can get is from the Almighty God."
He said that divine help was always on time and manifests at the time it was needed.
Adeboye prayed for Wike, Rivers State and her people.
Also speaking, the Pastor in charge of Redeemed Christian Church of God (RCCG), Pastor Belemina Obunge announced that the second phase of the church's Environmental Sanitation Programme has commenced.
Obunge expressed gratitude to Wike and the Government of Rivers State for the support over the years.
Young musician, Master Nengi Jaja and the RCCG Region 5 Choir ministered in songs at the Holy Ghost Rally.
Over 40,000 Christian faithful thronged the Adokiye Amiesimaka Stadium for the RCCG Holy Ghost Rally, which had the theme: "Divine Help".