Drama As Nations Cup Kicks Off …Mali Stuns Angola In Surprise Comeback …Togolese President Orders Team Back Home
The 27th African Cup of Nations got under way in Angola last night with an impressive opening ceremony that most highlighted their traditional and cultural heritage.
But it was the dramatic opening match between the hosts and Mali that probably held the neutral watchers spellbound and the home fans at the November 11 Stadium, Luanda stunned.
The Palencas Negras, as the Angolan National team is fondly called threw away a hefty 4-0 lead and allows the Eagles of Mali to record a historic comeback form the dead.
While the star studded Mali side led by Frederic Kanoute of Sevilla FC and Mahamodou Diarra of Real Madrid, both of the Spanish La Liga, struggled to string parses together, Angola's attack led by Flavio and Manucho forced Mali's defence to make mistakes.
As the first half wore on, the hosts, apparently buoyed by the electric atmosphere and home support began to impose themselves on the game.
Two headed goals in a space of five minutes by Flavio ensure that Angola ended the first half in a very strong position for a dream start to the Nations Cup.
In the second half, Mali showed early sign of comeback when they created their first real scoring chance, which was fluffed by Skipper Mahamadou Diarra inside the six yard box.
But it was the Angolans, aided by woeful defending and poor overall play Mali, that grabbed two more goals from the penalty spot.
The first was a gift when Bagayoko tripped impressive wingback, Gilberto inside the box and defender picked himself up to score.
The second was a soft penalty after Gilberto easily went to the ground from the slightest of touches by Seydou Keita.
Mnucho converted the opportunity to give the hosts a seemingly insurmountable 4-0 lead in the 74th minute.
But five minutes later, the Mali revived and came back again.
Calamitous goalkeeping off a corner kick by Angola's Keeper allowed Keita to scrambe home Mali's firs goal in the 79th minute.
Angola's late substitution of two goals scorer, Flavio proved to be a premature celebration as the side lost steam and Keita motivated Mali to a later Surge. An exquisite head by Kanoute in the 88th minute reduced the tally to 4-2.
The Malians were afforded a further five minutes of added time and they made every second count.
Keita latched onto a cross to slam home his second and Mali's third goal, while Yattabore stunned the hosts with the equalizer at the death of record, probably the Nations Cup's biggest comeback in history.
Meanwhile, Togo has finally withdrawn from the continentwide soccer tournament and its players reluctantly left Angola yesterday, two days after a deadly ambush on the team bus killed three and injured eight. A separatist leader warned, however, that violence would not likely end.
It took a call from Togo's president to persuade the players to leave the African Cup of Nations; they said they wanted to stay and compete in honour of the assistant coach, team spokesman and Angolan bus driver who died in Friday's attack.
The government dispatched the presidential plane, while Togo's Prime Minister Gilbert Houngbo said Angola had not done enough to protect the team after the attack in Cabinda-the oil-rich region in northern Angola which has seen occasional separatist violence.
"We fully understand our government's decision to leave because they didn't receive enough guarantees for our security," forward Thomas Dossevi told The Associated Press. "We as players, we wanted to stay to honor the memory of our dead people, but both positions are understandable."
Togo team captain Emmanuel Adebayor, speaking in an interview with France's RMC radio Sunday, said the team had decided finally to "pack our bags and go home" after the Manchester City striker got a call from Togo President Faure Gnassingbe himself urging them to return.
"That's what made the difference," Adebayor was quoted as saying in a transcript of his interview on RMC's Web site.
Boarding the plane, Adebayor told journalists: "We have to mourn our dead. We go back home to do this."
Togo Sports Minister Christophe Padumhokou Tchao, who was accompanying the team home, told the AP three days of mourning had been declared in his homeland.
"We can't be in a period of mourning and at the same time be in the festival" of sport, he said. He added Togo had asked organizers to postpone the tournament.
The airport scene was chaotic, with dozens of police struggling against a crowd of Journalists. Two planes carrying the players and officials then sat on the tarmac for several hours before taking off.
The tournament began earlier Sunday with an opening ceremony in a Chinese-built stadium in the capital, Luanda, livened by fireworks as well as both traditional and contemporary performers. Several African heads of state attended, including President Rupiah Banda of Zambia and South Africa's Jacob Zuma, whose country will host the World Cup later this year.
"Despite the terrorist attack, Cabinda will remain a hosting city," Angolan President Jose Eduardo dos Santos said in an opening speech. "There is no need to be afraid."
Most top officials of the African Football Confederation, known by its French initials CAF, went Saturday to Cabinda, where some of the injured were still recovering, and implored Togo to stay.
CAF president Issa Hayatou said he'd received a guarantee from Angola Prime Minister Antonio Paulo Kassoma that security would be beefed up for all teams and at all venues.
Nancy Briggs

52 Soldiers, 1,000 Jihadists Die In Offensive, Army Confirms …As Nigeria, Chad Agree To Sustain Tempo Over Boko Haram's Defeat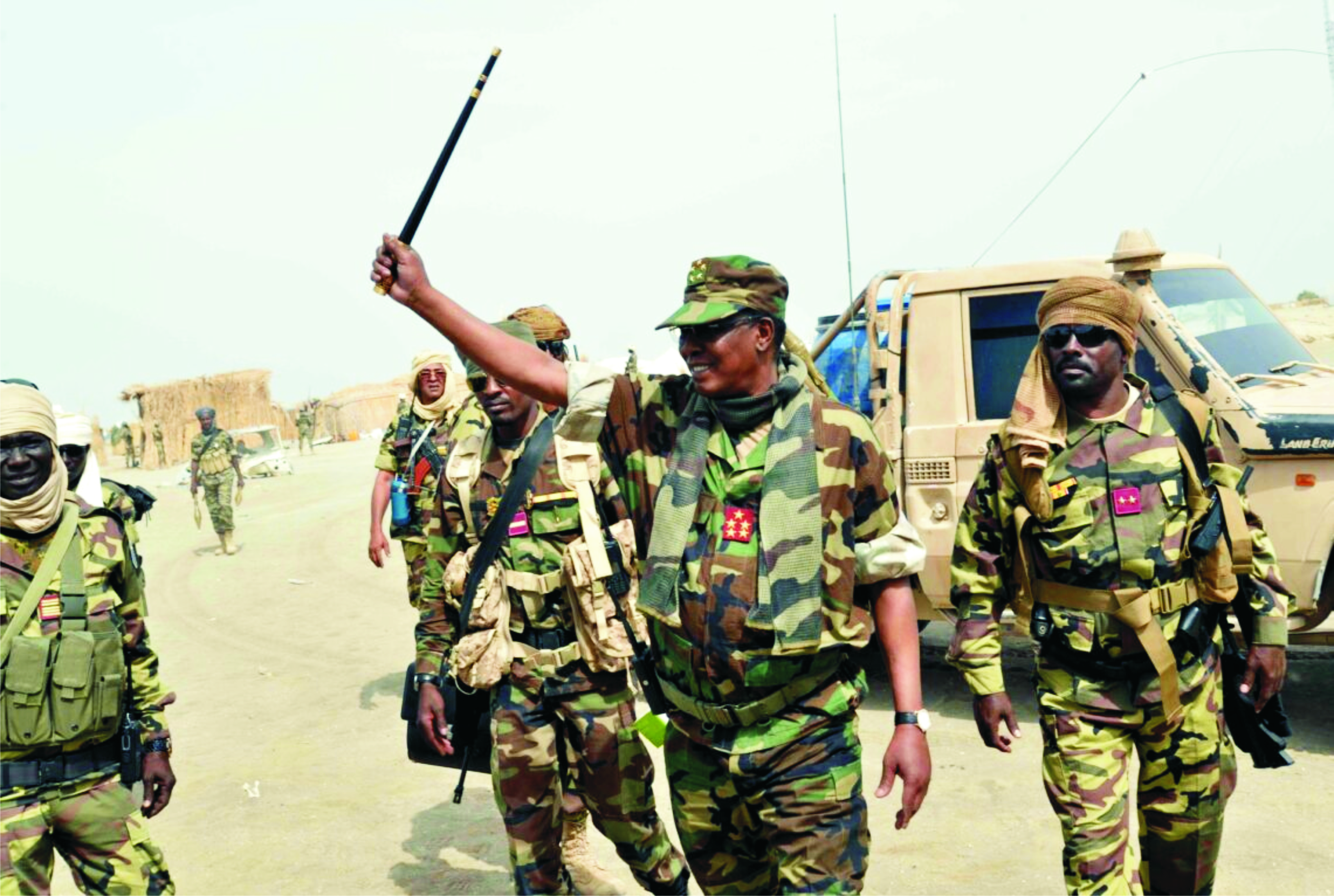 The Chadian Army said, yesterday, that it had wound up an offensive against Boko Haram jihadists in the Lake Chad border region in which 52 troops and 1,000 jihadists were killed.
The Army spokesman, Colonel Azem Bermendoa Agouna told newsmen that the operation, launched after nearly 100 soldiers were killed last month, ended last Wednesday after the Nigerian jihadists were forced out of the country.
"A thousand terrorists have been killed, 50 motorised canoes have been destroyed," he said, referring to a large boat also called a pirogue.
It is the first official snapshot of the outcome of Operation Bohoma Anger, launched after Chad's armed forces suffered their biggest one-day loss in their history.
Lake Chad is a vast, marshy body of water where the borders of Niger, Nigeria, Chad and Cameroon meet.
The western shores of the lake have been hit by jihadists crossing from Nigeria's North-East, where Boko Haram launched a bloody campaign of violence in 2009.
On March 23, jihadists mounted a deadly seven-hour assault on a Chadian Army base at Bohoma, killing at least 98 troops, according to an official toll.
Chad declared departments near the lake "a war zone" in order to give the military free rein for the offensive.
The four countries bordering the lake, had in 2015 set up a formation called the Multinational Joint Task Force (MNJTF), also including Benin, to fight Boko Haram.
But Chad, whose forces have a relatively high standing in the Sahel, has shown frustration with the MNJTF following the Bohoma losses.
"Chad is alone in shouldering all the burden of the war against Boko Haram," President Idriss Deby Itno complained last weekend.
"I met the commander of the MNJTF and asked him to take over."
Boko Haram's 11-year-old campaign has claimed tens of thousands of lives in Nigeria's North-East, and driven nearly two million people from their homes.
Separately, in Niger, the Defence Ministry in Niamey said its armed forces, in a joint operation with Chad, had inflicted "heavy losses" on Boko Haram in the Lake Chad region.
"Arms caches, logistical points and several boats were destroyed" and islands used as rear bases in the lake's marshland were "bombarded from the air," it said.
Landlocked and poor, Niger is facing jihadist attacks in opposite ends of the country — an insurgency that has spilled over from neighbouring Mali, and raids in the Lake Chad region by Boko Haram fighters.
However, in Burkina Faso, five soldiers were killed and three were wounded, yesterday, when their unit came under attack from jihadists in Solle, in the northern province of Loroum, an Army official said.
Around 4,000 people lost their lives last year in jihadist or community-related violence in Mali, Niger and Burkina Faso, according to UN figures.
Meanwhile, Nigeria and the Republic of Chad, yesterday, agreed to sustain the tempo to the defeat suffered by Boko Haram where five bases of the terror group in both countries were destroyed.
The Minister of Defence, Maj.-Gen. Bashir Magashi (rtd) said this at the bilateral meeting of ministers of defence of the two countries in Abuja.
He said it was imperative to sustain the tempo of the current operation in order to retain the gain recorded by the Multinational Joint Task Force by destroying Boko Haram's bases.
He said the creation of the Multinational Joint Task Force by the two countries had unleashed deadly blow on the insurgency, adding that there was need to sustain the tempo.
"We need to seek ways to end Boko Haram and the meeting will come up with acceptable ways of ending the insurgency.
"We need new strategy to fast track the rooting out of Boko Haram, if we want our region to be free of terrorists," he said.
It would be recalled that Boko Haram had in 2009 launched a bloody insurgency in North-East Nigeria but later spread its atrocities to neighbouring Niger, Chad and Cameroon, which prompted a military response.
The minister said that in spite of the successes recorded in the fight against Boko Haram, Nigeria was concerned about the heightening activities of the terrorists group as suggested by recent attacks on military locations.
He also raised the alarm over the spate of kidnapping, banditry and other heinous activities in the country.
He added that the Nigerian armed forces had not relented in its efforts to fight all terrorist group's operation in the sub-region, while commending the success recorded in individual countries through the MJTF.
Magashi said that the current security challenges ravaging the entire world over COVID-19 with far reaching socio-economic consequences and the current security development on the restriction of movement also necessitated the meeting.
"I must also add that the meeting holding at this auspicious time and the premium our governments placed on our nation, we respectively commend the two Presidents for their determination," he said.
The Chadian Minister of Defence, Mahamat Aba-Ali Soilah, however, promised its support for the fight, adding that the government of Chad would sustain the tempo.

Easter: Wike Relaxes Restrictions For Religious Gatherings
The Rivers State Government has temporarily relaxed the restrictions on large religious gatherings to enable Christians carry out their religious obligations during the Easter period.
In a state broadcast, yesterday, Governor Nyesom Wike said the directive also permits the Muslim community to observe their Jumaat prayers within the period.
He said: "In the Spirit of Easter, therefore, and after a careful review of the state of COVID-19 situation in our state, we have decided to temporarily relax the restriction on large religious gathering, as follows.
"Friday, April 10, 2020 – all Moslem faithful should observe Juma'at prayers in their mosques or prayer grounds throughout the state and pray for the peace, forgiveness and the blessings of Allah upon the state.
"Sunday, April 12, 2020 – all Christians should have Easter church services with their full congregation and pray to God to forgive us of our sins, continue to intervene in our affairs and protect the state and our people from the Coronavirus.
"For the avoidance of doubt, the relaxation on mass religious gathering is limited only to the afore-mentioned respective dates."
Wike stated that all other restrictions remain.
"All other restrictions, including the closure of markets, night-clubs, cinemas, beer parlours, public burials, weddings, parks as well as the closure of our air, land, and sea routes into the state, shall remain in force until further notice.
"Once again, thank you for your support and cooperation as we work collectively to keep our dear Rivers State safe and secure from Coronavirus and other afflictions", he said.
"I wish you all a happy Easter celebration, while trusting on your prayers for God to heal our land and see us through."
Wike said all the measures implemented by the Rivers State Government since March 24, 2020 to check the spread of Coronavirus have yielded results.
He said: Most of these measures, including the restrictions on religious assemblies above fifty persons, were targeted at avoiding comingling, maintaining social distancing and ensuring that the state and its citizens are free from COVID-19. From all assessments, it is going well with our state and we are grateful to God for His mercies and protection.
"We are also grateful for the strong public support and I just want to say thank you for your kind understanding in the midst of the troubles you are made to endure at these trying times."
The Rivers State governor added that all measures have implemented with no harm intended for any group.
He said: "As a government, our conscience is clear and we intended no harm whatsoever to anybody. All the measures we have taken so far, and all that we have done are in the best interest of our state and for the general good of our people.
"We have no other choice but to fight this mass killer virus with all of our might and every weapon and resource at our disposal, less we all perish, for our inactions and indiscretions.
"Let me appeal to you to continue to hold on to our hopes and prayers; as we are at the moment the envy of many other states for the way God has helped us to keep COVID-19 away from our state."

Inter's Barcelona Target Open To Madrid Move
Lautaro Martinez has never ruled out a switch to Real Madrid, says his agent, Beto Yaque, but a player generating intense speculation regarding a move to Barcelona is expected to honour a long-term contract at Inter.
Having settled quickly on a European stage following his arrival at San Siro from Racing, the Argentina international has emerged as a top target for leading sides across the continent.
Reigning La Liga champions Barca are said to head that queue, with the Catalan giants willing to spend big on bringing in a fellow countryman to sit alongside club captain Lionel Messi.
Those at Santiago Bernabeu would also be expected to be in the mix were Lautaro to become available on the open market, given their penchant for snapping up 'Galacticos'.
There have been suggestions that Martinez has no interest in linking up with the Blancos, having snubbed their advances in the past, but his representative insists that is not the case.
Beto Yaque told Tidesports source, "He never said that he does not like Madrid, only that he wanted to succeed in Racing."
Lautaro is expected to make another big-money move at some point, with Messi having already talked up his qualities amid the ongoing talk of interest from Camp Nou.
"Surely for Lauty it is a great compliment to be spoken about by the best in the world," Yaque added.
"I think that is very nice and comforting for him."
The rumours regarding his future could be considered something of a distraction for Lautaro, with the likes of Manchester City also said to be in the mix, but Yaque insists that is not the case.
He said: "He treats it as if it is nothing, because he is only focused on his club. But surely there is great satisfaction knowing that he is doing things well."
Inter have made it clear that they have no intention of sanctioning a sale any time soon, with Lautaro a key figure in their long-term plans.
Yaque expects the 22-year-old to stay put for the foreseeable future, with there no need for him to consider a new challenge at this stage.
He added: "Lautaro has a five-year contract with Inter and the news that comes out is exclusively generated by the press."
Prior to competitive football shutting down during the coronavirus crisis, Martinez had netted 16 times through 31 appearances for Inter in the 2019-20.