Seek Forgiveness From God, Nigerians, Ribadu Tells Ibori
Former Chairman of the Economic and Financial Crimes Commission (EFCC), Mallam Nuhu Ribadu has refuted claims that he was after the former governor of Delta State, Chief James Ibori, that his investigation and prosecution by the Ribadu-led anti-graft agency was for selfish reasons.
Ribadu, who spoke from his base in the United States of America (USA), said that comments credited to Ibori that his ordeals in the hands of the EFCC during the administration of President Olusegun Obasanjo were as a result of his refusal to accede to some requests by the former EFCC boss were baseless and full of self delusion.
His immediate reaction was blunt: "Don't you think what he has said lacks substance? That it does not even deserve a response? Of course, my immediate reaction will be that he is involved in self-delusion. His comments are baseless and deserve no reaction, but for record purposes, I will react," Ribadu said.
He said that it was incorrect for the former governor to claim that he (Ribadu) approached him for a job in Geneva. According to him, the former governor does not have such credibility in the international community. He also insisted that he was not desperate for positions and had never approached Ibori for any favour.
Ribadu said it would be wrong for him to approach somebody he had investigated for a job, adding that Ibori made a big mistake to think that he (Ribadu) was looking for something. According to him, such material things like money and power have never been too important in his life.
Ribadu further responded with questions: "Who was he by the time I was in office? Is he saying that he is the one who formed President Yar'Adua's government? How can I approach him to get me a job in Geneva? Ask the people in Geneva. Between me and him who will they listen to? How can I approach an… for an international job?"
He said further: "Is he telling Nigerians that he is the one who owns the courts and tells the judges what to do? Is he saying that he is the one who determines the ruling of the judges? Was he the President of the Court of Appeal, which determined the ruling in the presidential election petition? I want him to respond and for Nigerians to reflect on that.
"It is very sad that people like that will have a platform to talk. It is very sad that our country will keep producing leaders like that."I am telling him and people of his kind that instead of continuing to promote a sinful life and continue to spend huge funds to promote propaganda against me and the people, they should make peace with God and Nigerians will forgive them for what they have done to us.
"Instead of spending money to hire foreign lawyers, let him come to terms with himself, make peace and return any stolen money. As for me, he is making a big mistake to think that I am looking for something. Power and money are not important to me.
"I promise him that I will continue the fight until I drop dead and that is why I will not die now and that is what is motivating me to continue. They have a hard fight ahead of them, himself and people like him do have a hard fight ahead of them.
"My assurance is that Nigerians will one day get justice. Justice will one day come to Nigeria. It is a delusion that does not warrant a response, really, but I say this for record purposes."
The former governor of Delta State had told newsmen in Lagos on Friday that Ribadu decided to humiliate him after he had rejected his overtures to assist him become the Inspector General of Police(IGP) and also ensure the annulment of President Yar'Adua's election.
Ibori had said on Friday: "I can say without any fear of contradiction that I have and hope I still have a good relationship with the erstwhile chairman of the EFCC, even though he now denies that he is a friend. I am a Christian and will not deny him.
"Very many times, he tried to get me to assist him in one way or the other, including his desire to become the Inspector General of Police. In his approach, he posited that in his estimation and knowledge of Nigerian politics, I was one of those who could help him achieve it.
"On another occasion, he attempted to recruit me to join a crusade to annul the presidential election of 2007. In fact, he promised that if I did, he would not file charges against me and would not prosecute me.
"I told him to give me time to reflect on it. But it would be stupid of me to have bought into his blackmail, so I ignored him. When he then realised that I was not succumbing to his cheap blackmail, he decided to go ahead with his plan of humiliating me."
Ibori said that an observer had alerted him in November 2007, while he was attending the United Nations session with the Nigerian delegation in New York, that Ribadu planned to frame him that he attempted to give him a $15 million bribe.
Accordingly, he said he put a call through to Ribadu who, according to the former governor, denied the allegation."Interestingly, he himself has contradicted his statement severally with regards to the alleged bribe, especially in his statement in the English court," Ibori claimed.
He also alleged that Ribadu's grudge against him was also because he insisted on due process in the suit filed against him at a Kaduna High Court, which has now been transferred to Delta state.
He said: "My lawyers challenged both the detention, the jurisdiction of the court and the seizure of my passports, all of which were vigorously argued at the lower court and at the appeal court.
"It was finally resolved at the appeal court, where the court agreed with my lawyers that the jurisdiction where the alleged crime was committed is the Benin Division. The appeal court also granted the release of my passports."
"All of this, I think, did not go down well with the erstwhile EFCC chairman. Since my arrest, detention and eventual prosecution, my team of lawyers have consistently assured me that I will be fully exonerated because there is no evidence to support the charges."
Chief Ibori said that it was not in his character to join issues with people on the pages of newspapers but that he had to respond now because of pressures from political associates, friends, colleagues and well-wishers.
2023: Lawyers' Group Urges Wike To Run For President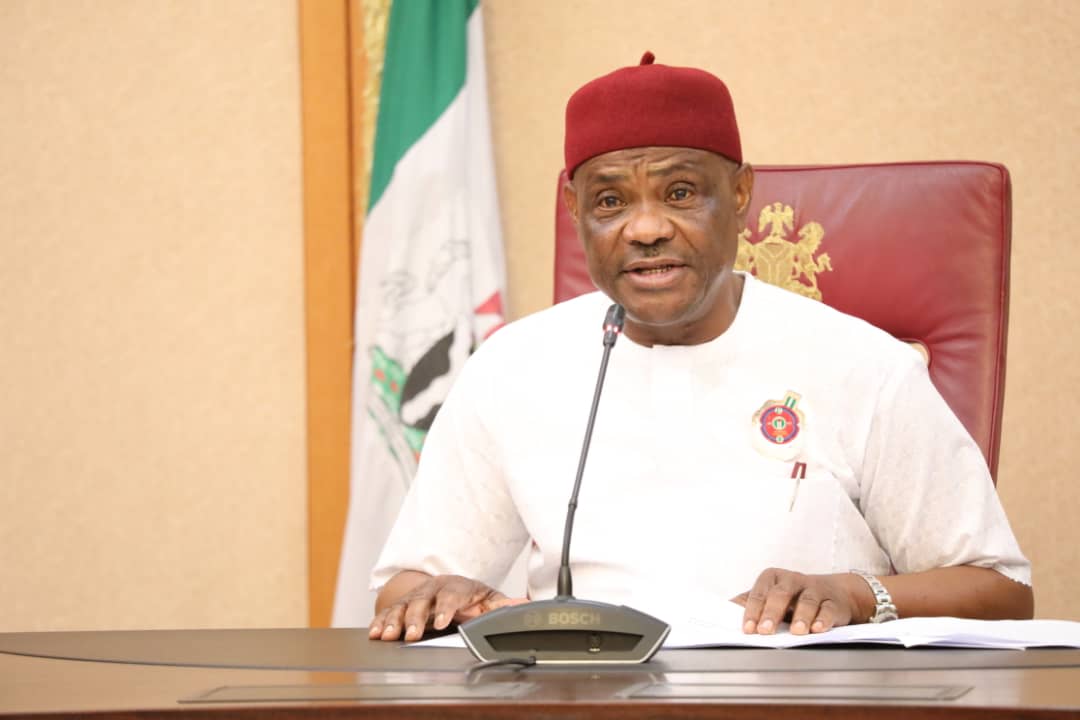 The Chairman, League of Patriotic Lawyers, Abubakar Yesufu, has called on Rivers State Governor, Chief Nyesom Wike to join the presidential race.
He said Wike's performance as governor shows that he would provide good governance if elected as President of Nigeria.
Briefing newsmen, last Thursday, in Lagos, Yesufu urged Nigerians to support Wike should he heed the call to run.
According to him, "All those currently parading themselves as candidates cannot match Nyesom Wike's impeccable credentials. Wike has demonstrated clearly that he is ready and eminently qualified for the job, come 2023.
"In education, infrastructure, housing, healthcare delivery, agriculture, social welfare, sports, arts and culture, Wike stands out like a giant amongst midgets.
"Indeed, Nyesom Nwike's strides among his peers, have earned him the name Mr Project. The name was reemphasised by no less a personality than the Vice President, Prof Yemi Osinbajo.
"We are entering a defining moment the nation's history. There is a sacred duty on all men and women of good will: Christian or Muslim, PDP or APC to rescue Nigeria from the abyss of destruction from which she is dangerously headed.
"The prospect of making APC return because of lack of good choice is scary and unthinkable.
"Wike has the knack and daring courage and his achievements in Rivers State, a highly cosmopolitan state, are eloquent testimonies of the preparedness of Governor Nyesom Wike.
"I would be taking this message across the country, especially the youths, whose votes might be compromised on the altar of idealism.
"We are going to redirect the orientation and thinking of the youths to ensure those who muffled their voices on the quest for better Nigeria, either at Lekki toll gate, Alausa, Wuse in Abuja or Kafanchan, are not allowed to stage a comeback to power."
Identify Illegal Refinery Sites, Operators Now, Wike Orders LG Chairmen …Demands Transfer Of DPO, NSCDC Officer Implicated In Act …Promises N2m Bounty On Each Site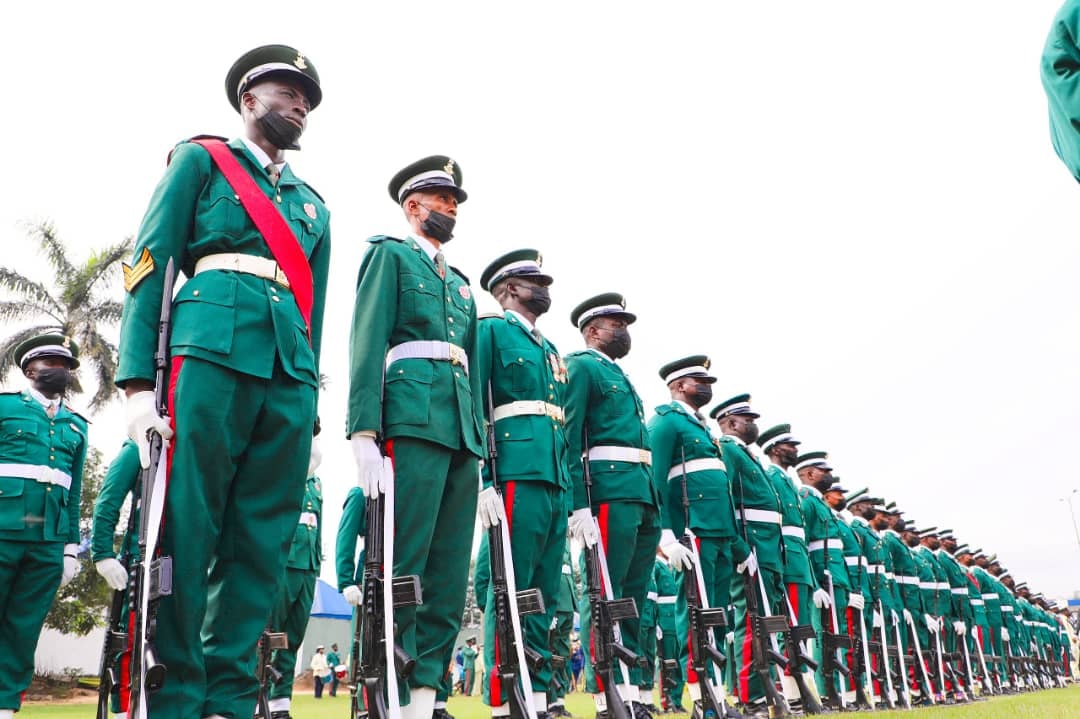 Rivers State Governor, Chief Nyesom Wike has issued a 48-hour ultimatum to the 23 local government chairmen to provide a comprehensive list of illegal refineries and their operators within their jurisdiction.
Wike gave the ultimatum at a meeting with the council chairmen and heads of the Nigerian Army, Nigerian Air Force, Nigerian Navy, Nigeria Police Force, the Directorate of State Service (DSS), and the Nigerian Security and Civil Defence Corps (NSCDC) at Government House, last Friday.
The governor challenged the council chairmen to prove that they were not complicit in the noxious business that has continued to threaten the health of Rivers people and the national economy.
Wike stated that as a responsible government, it would be unwise for them to fold their hands and do nothing to safeguard residents of the state from the death that is forced upon them by criminal-minded operators of artisanal refineries.
"Now, every council chairman must go and identify where illegal refineries are taking place. If you identify one, you get N2million. So, go and identify as many as you can. I will pay N2million for each one. And I am going to fight against this. Our people are dying, and we owe our people the responsibility to protect them, to save them from death they never caused.
"So, you must, and you're given 48 hours to go and identify all illegal refinery sites, and those who are in charge of them."
Wike emphasised that any of the council chairmen who is afraid to join in the fight against the criminals operating the illegal refineries should be ready to resign.
According to the governor, part of their social contract with their people was also to protect them and stop any illegal economic practices in their domains.
"I've called you here to tell you that it's a total war. It is either we do it or we don't do it. We cannot allow what is going on to continue. Two things: our people are dying; it's shortening our own revenue.
"You check from Federation Account, Akwa Ibom and Delta states are getting more, why? Because, these boys of the cartel have caused so much problems for us. So, we will not allow it."
The Rivers State governor also frowned at security agencies for the role some of their personnel have played in aiding and providing cover to the operators of the illegal refineries in the state.
The governor urged the state Police Commissioner, Mr Eboka Friday, to redeploy out of the state, a particular DPO in Emohua Local Government Area who operates an illegal refinery in the area.
"It's unfortunate for this country how security people will be involved in illegal bunkering. I can't believe it. Mr. CP, I thank you for transferring the DPO in Rumuji, who owns a refinery. But the man must leave here, not transferred. He must leave this state. I can't be governor here and a security man owns an illegal refinery. No, it is not possible…the man has to go. Take him to wherever they allow bunkering."
Wike directed the CP to immediately arrest Chief W. J. Wocha, Fubara Ohaka, and Chief Promise Ezekwe, who have been fingered for operating illegal refineries deep inside the forest of Ibaa community in Emohua Local Government Area.
The governor further urged the commandant of the Nigerian Security and Civil Defence Corps, Rivers State Command, to immediately transfer its personnel in charge of vandalisation of pipelines in the state.
"Transfer the man, and tell him to leave. He is a complete saboteur. I mean, how can security men be the ones involved in this? What kind of country are we?"
The governor urged the DSS to profile persons involved in the heinous illegal refining business, and make the list available to him, and assured of acting on the list.
Earlier, the Rivers State Governor, Chief Nyesom Wike had vowed not to spare anyone involved in the illegal bunkering and artisanal refinery activities that have caused the soot pandemic in the state.
Wike maintained that his administration will not succumb to any form of blackmail or sentiment that will be stirred by those perpetrators in an attempt to frustrate efforts at curbing such hazardous business.
The governor made the vow when he took a tour, making a long walk through the track roads into the forest of Ogbodo community in Ikwerre Local Government Area, and the forest of Ibaa community in Emohua Local Government Area, with the Rivers State Commissioner of Police, Eboka Friday, and other security chiefs, to uncover some crude oil illegal refining sites.
"They can't be doing this and be killing my people. No reasonable government will allow that. And I can tell you with all due respect, we will take this matter very seriously."
"Look at how, every day, in your house, you see the soot. I mean, how can you allow that? So, this one that we can solve, we will solve it.
"We have assured the people of Rivers State, we will fight this matter to the last until I leave office."
Wike noted that confronting this seemingly cartel kind of business will not be easy. But, he has however, vowed to consider it as a war like situation and fight it from the standpoint of the law.
According to the governor, no matter how highly placed the perpetrators may be, they will not be spared, but confronted, apprehended and be made to face the full force of the law.
Wike has therefore directed the state Attorney General and Commissioner for Justice, Prof. Zacchaeus Adangor, SAN, to take over the case files of illegal crude oil refinery operators arrested by the police.
"Attorney General, all these matters with the police, you have to retrieve the files so that you can prosecute the matters on our own. I don't want any compromise anywhere.
"And then too, it will not be on the ministry. You have to constitute a legal team. Go and get our friends all over the country, so that we can execute this prosecution to the last.
"It is a serious matter. And I'm going to take it head on. In fact, it is a war. It is not poor people doing this, they're a cartel. You must go and arrest these people; Chief W. J. Wocha, you must arrest Fubara Ohaka, and chief Promise Ezekwe. You must arrest them.
"It doesn't matter how highly placed you are. If you like, be the paramount ruler. In fact, any traditional ruler that is involved, pick him for me. Let him understand that the law does not respect anybody."
Speaking further, Wike directed the Emohua Council Chairman, Dr Chidi Lloyd to locate residences where processed crude oil products are stored and let the people ascertain their sources.
Wike said the purpose of confronting this havoc is to ensure that the health of Rivers people is not further hampered by those illegal refining activities.
"If not, our people will continue to die. Even you, you're not safe from related sicknesses like cancer. All those products in the houses; you must go after them; they must tell you where they got the products. Enough is enough.
"Look at what is happening, they are dying. I want to live. So, we must stop this illegal refinery business.
"And I have said to the Federal Government; if you're not willing to do anything, don't promise people anything. You told them that you will do something, how can you promise modular refinery.
"What I'm talking about is the safety of Rivers people. That is more important to me."
Explaining the ugly experience community people had suffered, the Chairman of Emohua Local Government Area, Dr Chidi Lloyd noted that the problem of illegal refining activities in the area is beyond the capacity of the council to handle.
He wondered why the Federal Government which once promised to established modular refineries in the Niger Delta region has reneged on that promise.
"Thank God for your boldness. Rivers people are now aware. On a daily basis people roast and burn here. The whole Ibaa community has been taken over by this trade.
"And when you talk, they say look, if they don't do this, they'll go to the roads and begin to carry arms. And I say to them, you don't dig a hole to cover another hole. Your business shouldn't kill me."
Earlier, the Ikwerre Local Government Chairman, Hon. Samuel Nwanosike, conducted the governor around illegal oil refining site at Ogbodo-Isiokpo in Ikwerre Local Government Area.
PDP Govs Storm PH To Consolidate On Rescue, Rebuild Nigeria Project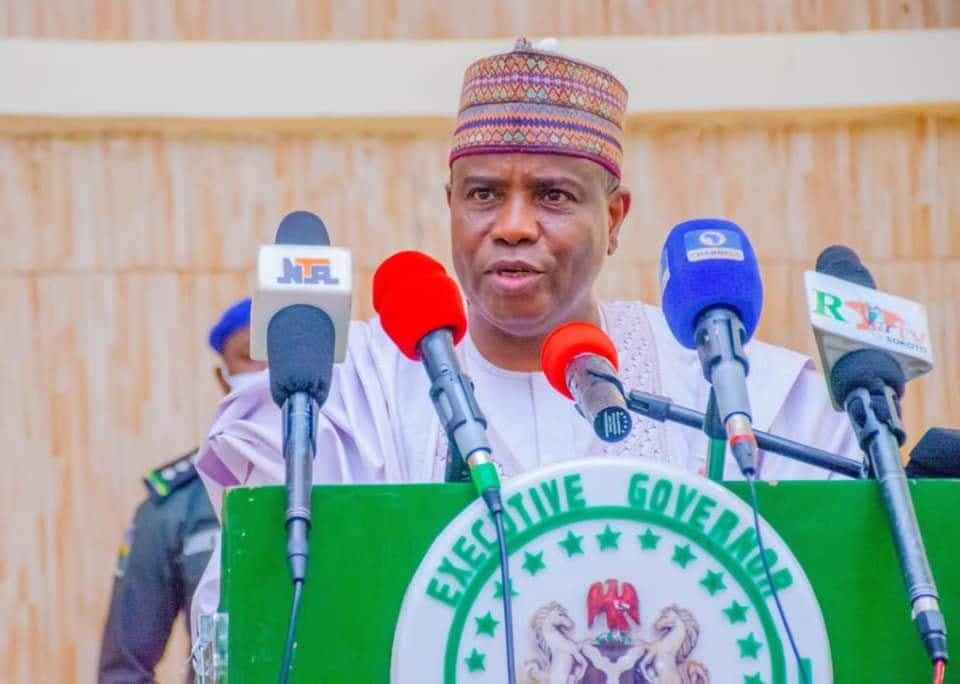 The Peoples Democratic Party (PDP) Governors Forum would hold a special meeting, today, at the Rivers State Government House, Port Harcourt.
The Director General, PDP Governors Forum, Hon. Cyril I.D. Maduabum, said the meeting would review the state of the states, the state of the nation, and readiness of the PDP to provide the necessary leadership to rescue and rebuild Nigeria.
"All the elected PDP governors are expected to attend the meeting to be presided over by the Chairman of the Forum, Hon Aminu Waziri Tambuwal.
"The meeting will be preceded by a gala night to be hosted by the Chief Host, Governor Nyesom Wike.
"The PDP governors are working in concert and consultations with other leaders of the party, and in particular, the Senator Iyorchia Ayu-led National Executive Committee (NEC) of PDP to craft a credible process and programme for Nigeria's positive rebirth."
He explained that Ayu has been invited to attend the Port Harcourt meeting to hold consultations with the governors on strategies for executing the rescue and rebuild Nigeria project.
It would be recalled that, among others, the governors would do an appraisal of ongoing reconciliatory efforts in Ekiti and Osun states where governorship elections are billed to hold this year.